The safflower, or 'Benibana,' is designated as the prefectural flower of Yamagata.
Back in the Edo period, this flower was processed into what was known as "hanamochi (literally 'flower rice cakes')" for transportation. Today, we still follow the same traditional method, using only flowers grown in the prefecture.
Finish
Benibana-zome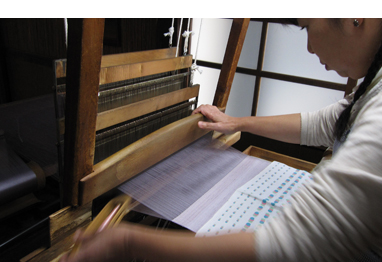 Benibana is believed to have entered Japan via the Silk Road.
During the Edo period, the Mogami Benibana accounted for over 60% of all benibana production nationwide. However, because the dyeing industry had not yet started in the Yamagata region, it was only considered to be just one of the area's cash crops.
During the Meiji period, the production of Benibana started to decline due to the importation of chemical dyes as well as other national policies.
However, thanks to the support of various people, third-generation Shuji and his wife Tomiko succeeded in releasing Benibana Tsumugi (pongee). Well-liked by the public, the product was distributed nationwide.
Today, with much appreciation for our history, we strive to continue making the highest quality products with Yamagata-grown Mogami Benibana.